From the Farm to the Kitchen, We're Building a Solidarity Food System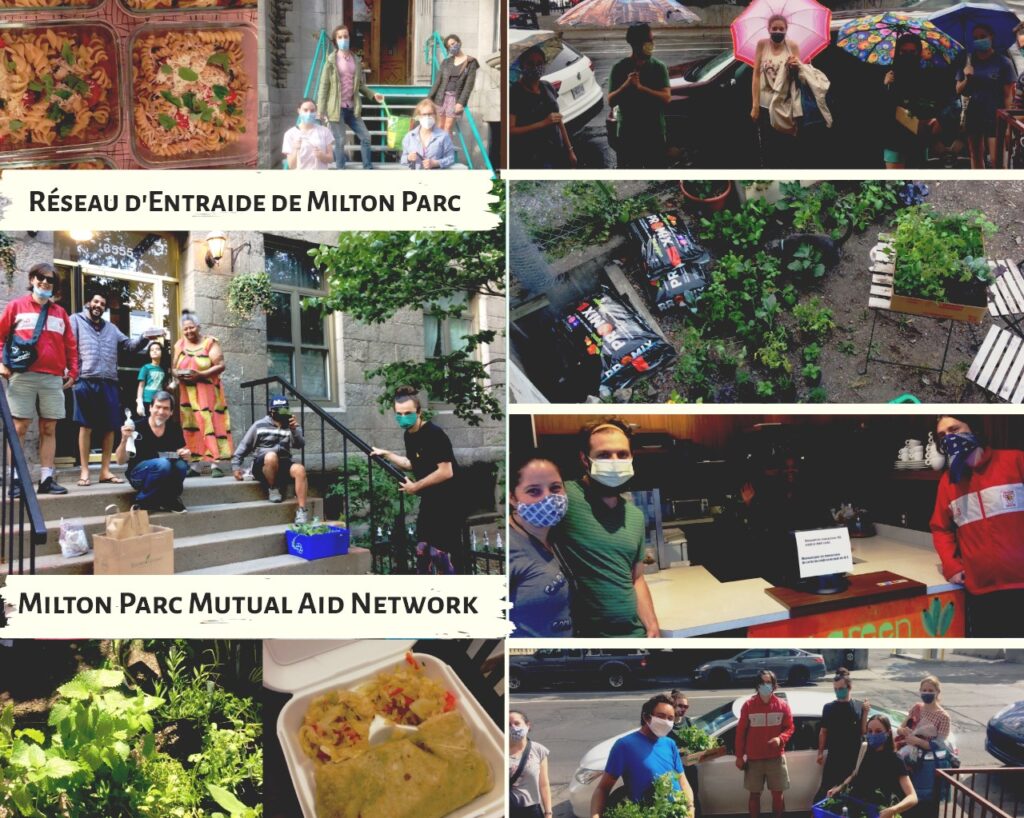 The Milton Parc Mutual Aid Network was created at the beginning of the COVID-19 pandemic in order to support our neighbours in need. This is about ordinary people helping each other to ensure our basic needs are met and to break social isolation and fear.
This is how we can help
Sunday Supper: Cooking and delivering 50 meals
**Note that we have had to pause our weekly Sunday suppers for the month of January. We are currently serving suppers every second Wednesday from 6pm-8pm. The next Sunday supper will take place on Wednesday, January 13th.
If you would like to sign-up yourself or someone you know, contact us: ccmp.miltonparc@gmail.com; 514-655-7714 (Dimitri Ok).
We can always use volunteers to help with cooking vegetarian meals and delivering food on foot. We reimburse the cost of ingredients for our cooks.
Organic Pop Up Shop/Food Bank: Free food, cloth masks
The most organic, fair trade, local food bank in Montreal!!
**Our bimonthly food bank/pop-up shop is currently paused for the month of January.**
For the time being, we will be available at the Lutheran Church food bank every second Wednesday, 3594 rue Jeanne-Mance. The next food bank will take place on Wednesday, January 13th from 6-8pm.
At our pop up shop we offer free organic vegetables, harvested from local farms by our volunteers. Many of the non-perishables are from zero-waste stores like Frenco's and Nous Rire and the bread is from Breddy Boulangerie, an artisanal baker in the Mile End. We hope to resume soon!
Solidarity Organic Vegetable Baskets
Biolocaux, Second Life, and Lufa continue to do local organic vegetable baskets even during the winter! To help everyone have access to fresh, local, organic vegetable baskets, we are offering to subsidize registrations 10-40% sliding scale. See our post about this for more info.
NEW: Free reusable menstrual products, register now
Save the planet and your money! We can provide free and reusable pads, tampons, panty liners, menstrual cups ("Diva cups"), or reusable cotton pads. Please register with Tiffany by email djswiggy22@gmail.com or at our biweekly Thursday 5-7pm food bank.
COMING SOON: Bulk Buying Food Coop
We are developing a zero-waste bulk-buying food coop! Members will be able to buy affordable organic food in exchange for volunteering a couple of hours a month with the collective. Contact Assia if you are interested! assia_malinova@hotmail.com
Future projects
We hope to organize collective kitchens and cooking workshops, social, cultural, and sports activities (online or outdoors), cooking/preservation workshops, and free exchange of used kids clothing over next few months and will need your help to do all of this. Get in touch if you are interested or you have ideas!
Contact us!
Do you need help? Would you like to volunteer with us? Let us know!
ccmp.miltonparc@gmail.com; Dimitri Ok : 514-655-7714
Get involved with us!
Fill out our form or contact us directly to let us know how you could help, or how you (or someone else) needs help. 
Sunday Supper deliveries: An easy, fun, and friendly way to start volunteering is to help us deliver meals. We always need volunteers to help deliver meals on foot. Contact Dimitri Ok: 514-655-7714.
Sunday Supper cooks: We need people willing to cook once or twice a month. You can either cook as part of a team of three people in the Lutheran Church kitchen, 1-5pm. Or you can cook 10-20 vegetarian meals from your home. We reimburse cooking costs. Contact Jeff Helberg: jeff.helberg@live.com.
Biweekly Pop Up Shop: biweekly on a Thursday 5-7pm. We need volunteers for various tasks. Contact Dimitri Ok: 514-655-7714; dimitrithree@hotmail.com.
Social, sports, and cultural activities. Yoga, fitness, outdoor nature activities, online film nights, and more … Coming soon!
Coordinating committee: Welcome to join our coordinating committee, which meets Mondays 7pm once a week and uses a Signal chat to communicate. 
Let us know if you have other ideas for how we can help people!