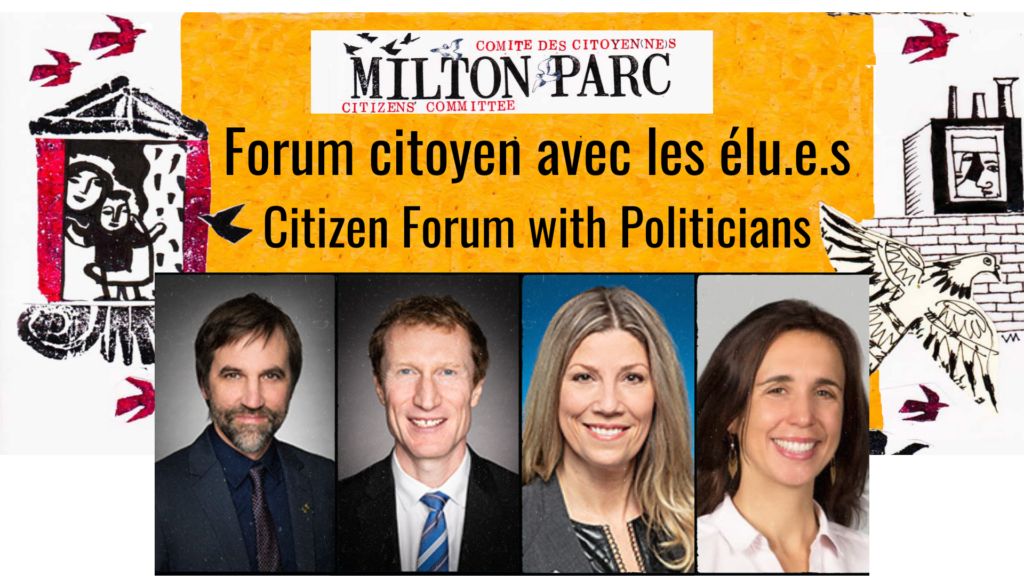 Tuesday, June 15th, 7:00–9:20pm
Get involved and demand the changes we need!
The Milton Parc Citizens' Committee is organizing this major citizen forum with local politicians from all three levels of government (including two federal ministers) as well as those responsible for planning the future use of the Royal Victoria Hospital and La Cité des Hospitalières. We know we urgently need to build a better neighbourhood, city, and world. This is your chance to engage political authorities with questions and comments on whatever issues concern you, like housing and homelessness, healthcare and social services, ecology, the economy, transport and planning, the police and military, and immigration. Power to the people!
Participate by:
Zoom: https://bit.ly/3f8pusP
Telephone: 438-809-7799 ID: 858 2271 9989
Youtube livestream: youtu.be/rCl5KSflVEE
In-person broadcast, if you cannot join virtually: Centre communautaire, 3590 Jeanne Mance
Queries : ccmp.miltonparc@gmail.com, ccmp-mpcc.com, 514-561-4656, (Nathan)
Program:
The Honourable Steven Guilbeault and the Honourable Marc Miller (Ministers of the Federal Government)
Ms. Jennifer Maccarone (Member of the Quebec National Assembly)
Ms. Maeva Vilain (Plateau Borough Councillor)
Royal Victoria Hospital: Ms. Sophie Mayes (Société Québécoise des Infrastructures), Mr. Pierre Major, Dr. Cameron Charlebois, & Dr. Caroline Gravel (Université de McGill)
La Cité des Hospitalières: Ms. Valentine About (City of Montreal) and Mr. Philémon Gravel (Entremise)
We will take 2-3 questions at a time, and the responses of the elected officials will be limited to 2-3 minutes.
For more information consult our agenda
Facebook event: https://fb.me/e/1js27vmk8