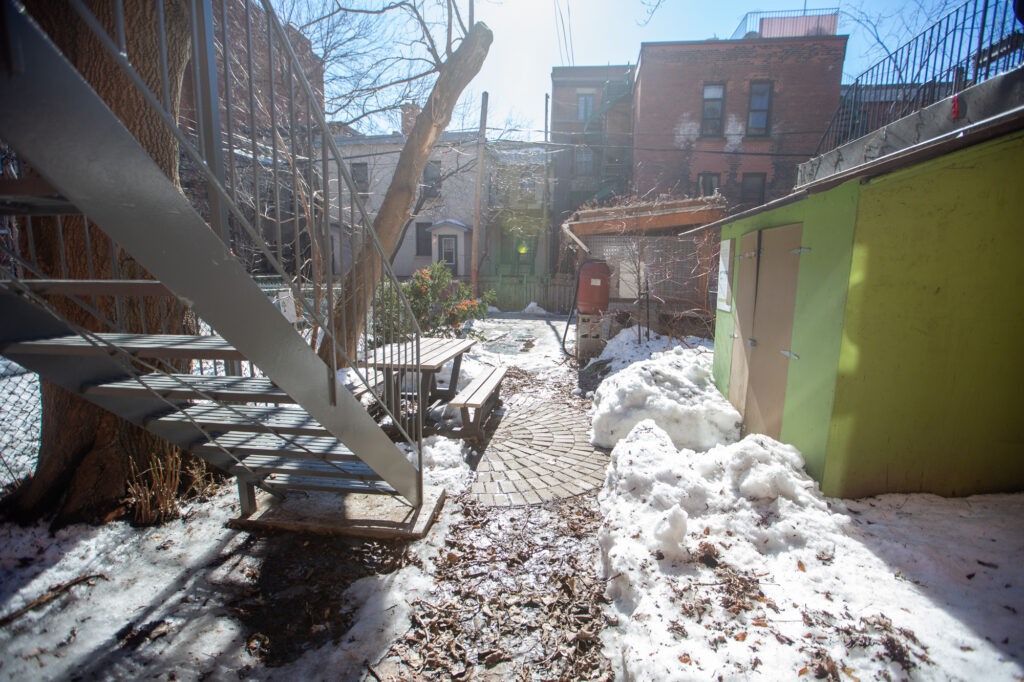 Local Groups are Joining Forces: Come Share Office Space with Us!
The Milton Parc Citizens' Committee has leased 3516 Parc (the former Urban Ecology Centre) to develop a community hub.
We are looking for community-based organizations (and, secondarily, individuals/freelancers), involved in the fields of activism, solidarity, community development, the social economy, research, or the arts who would like to share office space with us in the Cooperative Republic of Milton Parc. Come join groups like the Milton Parc Citizens' Committee, Tenk.ca, QPIRG McGill, Comm-Un, ACORN, The Royal Vic for the Public Coalition, the Montreal Autonomous Tenants' Union, and Mama Dances.
The building is a beautiful three-story Victorian greystone (120 years old) with a 20-person meeting room, 2 bathrooms, a mini-kitchen, a backyard patio, and a rooftop garden (the Lucia Kowaluk Terrace). The building is a total of 2274 sq ft, with 7 rooms at a total of 1334 sq ft available for rent. See this document for the floor plans and rent projections. The citizen-run SDC Milton Parc owns the building.
PHOTOS: Here are photos of the building.
Office spaces and desks available!
286 sqft, space for 6 desks, 2nd floor, facing north with full sun and a quiet backyard. $800–1600 sliding scale.
160 sqft space for 2–3 desks, 3rd floor. $480–800 sliding scale. The office was once the office of Luc Rabouin, current mayor of the Plateau!
Single desks in shared lockable rooms: $150–300 sliding scale per work station.
Drop-in in common areas: People are welcome for free drop-in coworking in our common spaces.
The rent includes taxes, hydro, hi-speed internet, access to an industrial printer, and use of common areas (kitchen, library/common room, rooftop garden, and backyard).
Our flexible sliding scale approach to rent is to ensure accessibility to community and cultural groups based on their financial means.
Please contact us if you would be interested to visit the space, meet the other building tenants, and find out more information! ccmp.miltonparc@gmail.com 514-561-4656 (Nathan)
Salle de rencontre/bibliothèque || CCMP meeting room and library
Meeting + event space available to rent:
The CCMP's common room/library is available for meetings of up to 20 people. We charge a voluntary contribution, pay what you want. Projector, screen, and conference call hardware are available on demand. Contact ccmp.miltonparc@gmail.com 514-561-4656 (Nathan)
If an organization also has other space needs to complement an office in 3516 Parc, such as multi-purpose rooms for 40-100 people, a community kitchen, or storage space, there are other community-run spaces within 5 minutes walking distance. We can help you access these solutions.
ACCESSIBILITY INFORMATION: We are working on making the ground floor accessible by installing a ramp at the front entrance. All bathrooms are single-use and non-gendered. The space could be made scent-free as needed.
Contact us if you are a group or individual and you are interested in renting a fixed office, hot-desking, or renting our meeting room. ccmp.miltonparc@gmail.com; 514-561-4656 (Nathan McDonnell).